Meditation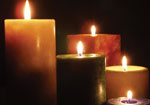 Meditation is a means of attaining deep relaxation. As the body releases accumulated stress and tension our self-imposed limitations start to lift and we are able to discover our highest potential within.


Through meditation, the mind becomes clearer and the nervous system discharges years of accumulated neurological debris. Stress, tension and fear melt away as disfunctional patterns are released and a newfound sense of well being begins to develop.
Studies have shown that meditation produces a wide range of physical benefits to include:


IMPROVED HEALTH

LOWERED BLOOD PRESSURE

LOWERED CHOLESTEROL

IMPROVED JOB PERFORMANCE

IMPROVED INTERPERSONAL RELATIONSHIPS

INCREASED LEARNING ABILITY

INCREASED CREATIVITY
As you begin to feel more deeply rested and as your mind becomes more alert, you will begin to experience life with renewed vigor and joy and to uncover the limitless you!